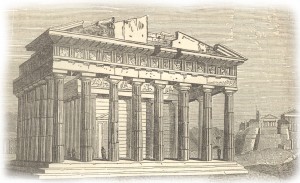 Are you superstitious?  Whenever I think about superstitions I can't help but think of the Apostle Paul and his speech to the men of Athens. By all accounts, Paul was quite a character. I can just picture him standing on the ancient Areopagus (Mars Hill) of Athens nearly two thousand years ago calling out to those gathered at the famous altar to the Unknown God:
"Ye men of Athens, I perceive that in all things ye are too superstitious."
I admit, I would like to have been there for that speech. To see Paul in his billowing robes challenging the highly educated Atheneans about their unfounded superstitions would have been quite a sight. Anyway, Paul goes on to explain to the men of Athens that the God they ignorantly worship was the living God of the Bible. If the Apostle Paul was here today, I can just see him chiding our generation with similar advice.
Let's take the number 13 for example. Even among Christians this number has a certain evil connotation about it. Have you ever wondered why the number 13 has such a superstitious aura? What if I told you, that like the ignorance of those men of Athens concerning the altar to their Unknown God, the superstitions surrounding the number 13 are but the vestiges of a similar story that involves that same "Unknown God"? Continue reading →