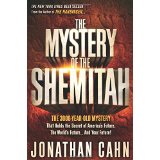 In the Bible Jesus often condemned the religious hypocrisy of His day. One of the more vivid examples comes from Matthew 23 where He lectures the scribes and Pharisees, telling them they were "blind guides, which strain at a gnat, and swallow a camel".
Lately, I admit that I'm bothered by the way some of Jonathan Cahn's more strident critics have attacked his work and in some cases his character. Mind you, I'm all for constructive criticism given in the spirit of humility and grace. In fact, there are some parts of Mr. Cahn's book that I've disagreed with myself, but that's not what I'm talking about here.
What I'm talking about are those who condemn his work with a sense of self-righteous superiority. While Mr. Cahn's critics are straining to show the illegitimacy of his Shemitah theory, they fail to hold themselves to the same Biblical standard. In fact, I dare say they are straining at a proverbial gnat while swallowing a camel.
This is really about one of the best kept secrets of Bible prophecy. You see, many of Mr. Cahn's critics hold a prophetic position far more influential for which they cannot provide a solid Biblical foundation. While they accuse Mr. Cahn of insufficient evidence, misinterpretation, and wishful thinking they are guilty of errors far more egregious. I'll explain:
Like many of you, I believe in a yet future and literal second coming of Jesus, tribulation period, and millennial reign of Christ. By far one of the most influential passages of scripture related to this futurist belief is the prophecy found in Daniel 9. Most of us know it as the prophecy of 70 weeks. This Messianic prophecy in some ways influences nearly every aspect of our study of eschatology. Whether it be the seven year tribulation, the identity of the antichrist, or the rapture – Daniel 9 shapes our end-times world view.
Here is the uncomfortable secret Mr. Cahn's critics won't tell you. Nearly every one of them base their own interpretation of Daniel 9 upon several assumptions for which they cannot provide reasonable Bible evidence. In other words, while they complain about Mr. Cahn's lack of evidence they do not hold themselves to the same rigorous standards.
Most know that Daniel 9 and the prophecy of 70 Weeks begins with a "commandment to restore and build Jerusalem". Many assume this "commandment" was given during the reign of the Persian king Artaxerxes (Longimanus), the so called "Artaxerxes" of Ezra and Nehemiah. Remember this "commandment" is the very starting point for the only prophecy in the Bible which gives a specific date for the coming of the Messiah.
This is a big deal!
The problem is Mr. Cahn's critics cannot prove their starting point with a reasonable rendering of the Bible's chronological record.
What is so disconcerting about this apparent double standard is that the Bible is rich in chronological evidence related to Ezra and Nehemiah's place in the second temple era. For example the Bible tells us that Ezra's father died in the 19th year of Nebuchadnezzar. This single fact creates serious interpretational problems for many of Cahn's critics, but you'll be hard pressed to find any mention of it in their writings.
You see, Ezra's age is important, because it places Ezra and Nehemiah as contemporaries of Darius 'the Great' Artaxerxes nearly 60 years before the Persian Longimanus. This inconvenient fact moves Cahn's critics starting point for the 70 weeks prophecy back by over a generation. In order to claim that Ezra was still alive during the reign of Artaxerxes Longimanus you would have to believe that Ezra was, at his youngest, a quarter of a century older than Moses! Is that a reasonable rendering of the Biblical facts? Not hardly, especially when there is additional Biblical evidence which places Ezra and Nehemiah in the reign of Darius 'the Great' Artaxerxes. Here is just a taste:
*The age of the priests and Levites of Nehemiah 10 and 12.
*The curious facts related to the first and second temple porters.
*The chronology of Ezra 6 and 7 and the unnamed Persian "Artaxerxes".
*The identity of the "Artaxerxes" of Ezra 6 who helped complete the temple by the 6th year of Darius.
Have you ever heard Cahn's critics talk about any of these Biblical facts? I didn't think so. Frankly, the second temple era is one of the best kept secrets of Biblical history and for good reason.
But here's my point. If illustrating the supposed weaknesses of Cahn's Shemitah theory is so important to sound Biblical teaching then why haven't Cahn's critics shown the same zeal towards to their own foundational teachings regarding the most important Messianic prophecy in the Bible?
As believers there is nothing wrong with offering sound constructive Biblical criticism of another believer's teachings, but let's do so with a bit of humility and grace. None of us have all the answers, especially as it relates to the study of Bible prophecy.
So as this age draws to a close, instead of attacking each other in self-righteous condemnation, let's work through the sifting process together in a spirit of brotherly love and good will. We need each other, not only for clarification of error, but encouragement and edification. Let's not forget the importance of the latter in our zeal for the former.
Maranatha!
     *       *      *
FREE Book Download:
If you would like to learn more about Biblical history and Bible prophecy, you might also appreciate my books in the Prophecies and Patterns series.
At the following link you may download one of the three books shown below.  If you like the book and would like to download the other two, all I ask is that you subscribe to my blog. I won't share your email or spam you with advertisements or other requests. Just every couple of weeks I'll share with you my love of Biblical history and Bible Prophecy. Should you decide you no longer wish to be a subscriber you can unsubscribe at any time.
Click the following link to download your Free book: Book Download
I hope you'll join the adventure!
Subscribe to Blog via Email