Contest begins July 4th, 2013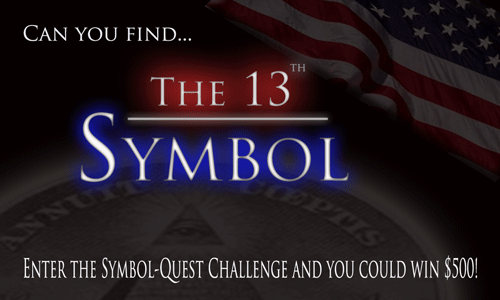 Official Rules for the 2013 Symbol-Quest Challenge are at my web site here: Symbol-Quest Challenge – Contest is over.
Please only post on this page if you have answers to the contest.
****Please note**** Your answers will be edited (before they are posted) so that others cannot see them. I will save an unedited version of your post in the event your are a winner. Make sure you use a valid email address.
Special Offer:
Subscribe to my blog and you'll receive a complimentary copy of the first book in my new series on the Messianic symbolism of the Bible:
The 13th Enumeration: Key to the Bibles Messianic Symbolism
Error: Your requested Widget "Subscribe2 Widget Pro" is not in the "Widgets for Shortcodes" sidebar
[do_widget_area sidebar-1]

[do_widget id="smartslider3-3"]
[do_widget id="text-6"]
[do_widget id="nav_menu-2"]
[do_widget id="subscribe2_widget-9"]
[do_widget id="facebook-likebox-2"]
[do_widget id="recent-posts-2"]
[do_widget id="text-18"]
[do_widget id="search-2"]
[do_widget id="rss-2"]
[do_widget id="rss-3"]
[do_widget id="text-12"]
[do_widget id="twitter_timeline-4"]

[do_widget_area sidebar-2]
[do_widget_area sidebar-3]
[do_widget_area widgets_for_shortcodes]
[do_widget_area wp_inactive_widgets]