I have always enjoyed trying to solve the unexplained.  No matter what you believe about the Bible it is full of puzzles, enigmas and the unexplained.  Okay, I know some of you have it all figured out but this post is to the rest of us mere mortals.  Throughout the Old Testament, sacrifice was connected to atonement for sin.  This symbolism started in Eden when YHWH killed the first animals to clothe Adam and Eve after their sin and continued up to the New Testament symbolism of Jesus who was as the apostle John describe: "the lamb of God which taketh away the sins of the world."
For those familiar with the Old Testament sacrificial system it is obvious there is some symbolic importance to the number of sacrifices during the Biblical holy days.  Even if you don't believe the Bible is inspired you can't deny the fact that there had to be symbolic importance connected to the number of sacrifices during these religious celebrations.
The Biblical festival of Succoth is illustrative of my point.  In the table below I have laid out the sacrifices for the "burnt offering" during the 1st seven days of the feast.  The pattern is obviously intentional and it is also unique.  There is nothing quite like it anywhere else in the Scripture.  So what is it's purpose?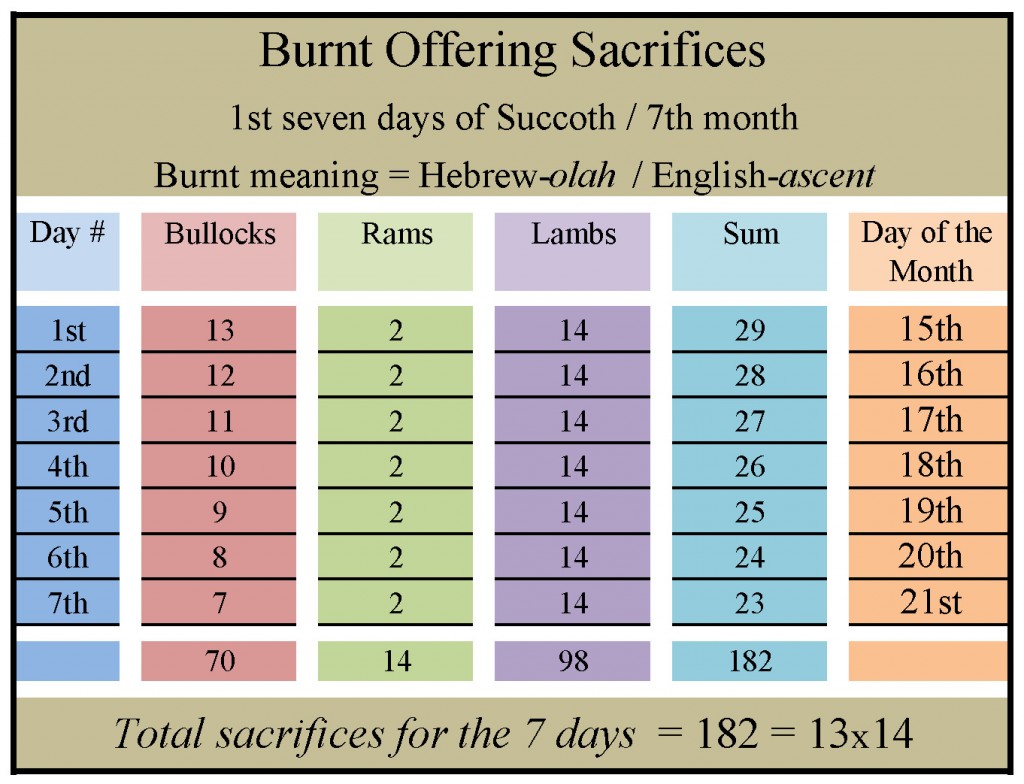 In the New Testament the apostle Paul when discussing the "law" and the sacrificial system as it related to Christ, indicated it was a "shadow of good things to come." He went on to describe how Jesus fulfilled those Old Testament pictures.  It seems more than coincidental that the Biblical festival most likely associated with the birth of Christ would also have in its ordinances an expression of the very same numerical symbolism as found in the list of Jesus' lineage in Matthew 1(as discussed here) as well as the chronology associated with his birth and the course of Abijah in Luke 1(as discussed here). .  The numerical symbolism expressed in all three places is but part of a large picture of which the 13th Enumeration is the key.
_________________________________________________
Below is the first and last usage of the term "Burnt Offering". (Gen 22 & Heb. 10 respectively)
Genesis 22:1-2  And it came to pass after these things, that God did tempt Abraham, and said unto him, Abraham: and he said, Behold, here I am.  2 And he said, Take now thy son, thine only son Isaac, whom thou lovest, and get thee into the land of Moriah; and offer him there for a burnt offering upon one of the mountains which I will tell thee of.

Genesis 22:11-13   11 And the angel of YHWH called unto him out of heaven, and said, Abraham, Abraham: and he said, Here am I.  12 And he said, Lay not thine hand upon the lad, neither do thou any thing unto him: for now I know that thou fearest God, seeing thou hast not withheld thy son, thine only son from me.  13 And Abraham lifted up his eyes, and looked, and behold behind him a ram caught in a thicket by his horns: and Abraham went and took the ram, and offered him up for a burnt offering in the stead of his son.
Hebrews 10:1-13  For the law having a shadow of good things to come, and not the very image of the things, can never with those sacrifices which they offered year by year continually make the comers thereunto perfect.  2 For then would they not have ceased to be offered? because that the worshippers once purged should have had no more conscience of sins.  3 But in those sacrifices there is a remembrance again made of sins every year.  4 For it is not possible that the blood of bulls and of goats should take away sins.  5 Wherefore when he cometh into the world, he saith, Sacrifice and offering thou wouldest not, but a body hast thou prepared me:  6 In burnt offerings and sacrifices for sin thou hast had no pleasure.  7 Then said I, Lo, I come (in the volume of the book it is written of me,) to do thy will, O God.  8 Above when he said, Sacrifice and offering and burnt offerings and offering for sin thou wouldest not, neither hadst pleasure therein; which are offered by the law;  9 Then said he, Lo, I come to do thy will, O God. He taketh away the first, that he may establish the second.  10 By the which will we are sanctified through the offering of the body of Jesus Christ once for all.  11 And every priest standeth daily ministering and offering oftentimes the same sacrifices, which can never take away sins:  12 But this man, after he had offered one sacrifice for sins for ever, sat down on the right hand of God;  13 From henceforth expecting till his enemies be made his footstool.
Numbers 29:12-14   12 And on the fifteenth day of the seventh month ye shall have an holy convocation; ye shall do no servile work, and ye shall keep a feast unto YHWH seven days:  13 And ye shall offer a burnt offering, a sacrifice made by fire, of a sweet savour unto YHWH; thirteen young bullocks, two rams, and fourteen lambs of the first year; they shall be without blemish:  14 And their meat offering shall be of flour mingled with oil, three tenth deals unto every bullock of the thirteen bullocks, two tenth deals to each ram of the two rams,
FREE Book Download:
If you would like to learn more about Biblical history and Bible prophecy, you might also appreciate my books in the Prophecies and Patterns series.
At the following link you may download one of the three books shown below.  If you like the book and would like to download the other two, all I ask is that you subscribe to my blog. I won't share your email or spam you with advertisements or other requests. Just every couple of weeks I'll share with you my love of Biblical history and Bible Prophecy. Should you decide you no longer wish to be a subscriber you can unsubscribe at any time.
Click the following link to download your Free book: Book Download
I hope you'll join the adventure!
Subscribe to Blog via Email