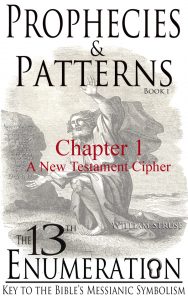 If you've ever wondered about why I chose to name this site the 13th Enumeration – Where History and Bible Meet, today you'll learn part of the amazing Biblical history behind The 13th Enumeration. Our adventure takes us back nearly 2000 years to a tax collector who penned a Biblical lineage of 41 names, an enigma which has become one of the most disputed texts of the New Testament.
"It is the glory of God to conceal a thing: but the honour of kings is to search out a matter."
Proverbs 25:2
Even a quick perusal of the biblical record will show you that our Creator, YHWH, doesn't always do things in a way mankind expects. In fact, when we're dealing with God, it's prudent to expect the unexpected. Whether because of our shortsightedness, His sense of humor, or something else, humans have been misunderstanding YHWH's actions and words since the very beginning.
The examples are almost too numerous to recount: He promised us a Savior. We expected a conquering hero on a white horse; instead He sent us a humble carpenter on a donkey. To meet a giant, He sent a shepherd boy with a stone and a sling. To protect His people from the wrath of Persia, He prepared a young Jewish maiden. To give the city of Nineveh a second chance, He sent a giant fish. We could go on and tell of a young Hebrew man sold into slavery who became the second most powerful ruler in Egypt, or of a harlot who would be the grandmother of a future king. The bottom line is that YHWH often does things that do not make sense based upon our human experience and expectations.
 An Unexpected Argument
The first chapter of the first book of the New Testament is no exception. I mean, come on—this is the place you'd expect to find rock-solid, ironclad proof that Yeshua (Jesus) is the Messiah promised in the Hebrew Scriptures. Chapter 1 of the gospel of Matthew is like the opening argument in the most important legal case in the history of the world. Mess up here, and the repercussions will have untold consequences. Continue reading →