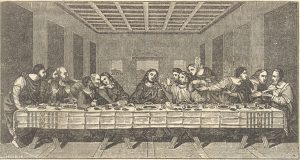 Can you name the Biblical holyday when the following words were spoken?
And he took bread, and gave thanks, and brake it, and gave unto them, saying, This is my body which is given for you: this do in remembrance of me. 
Likewise also the cup after supper, saying, This cup is the new testament in my blood, which is shed for you. – Luke 22:19-20
If you said the Passover then you are correct. Yeshua spoke these words to his disciples at the Passover supper he celebrated with them the night before his crucifixion. Over the centuries as the early church distanced itself from its Biblical roots, the wine and unleavened bread of Passover became a tradition unto itself known as the Lord's supper, holy communion, or the Eucharist. Yeshua death and resurrection during the Feast of Passover has also evolved into what most know today as the celebration of Easter.
When writing to the Corintian's the apostle Paul made sure his readers understood that Yeshua's death and resurrection were shadows and types of Biblical feast day of Passover.
Purge out therefore the old leaven, that ye may be a new lump, as ye are unleavened. For even Christ our passover is sacrificed for us: Therefore let us keep the feast, not with old leaven, neither with the leaven of malice and wickedness; but with the unleavened bread of sincerity and truth. 1 Corinthians 5:7-8 7
No matter what you believe about the traditions of Passover, Easter, or the Lord's supper, one thing is certain, all have roots in the Biblical story of Israel's exodus from Egypt.
Unfortunately today many scholars doubt the veracity of the exodus story found in the Bible.  This week I'd like to share with you some fascinating and informative resources that will help you better understand the exodus and the Biblical and historical facts upon which those events are based. Included in this week post:
A review of a fantastic book and video which does a superb job of laying out the Biblical case for the exodus.
A bit of personal history related to this subject which has influenced the direction of my life.
The power of assumptions: The Champollion Assumption and its influence on Biblical and Egyptian chronology.
A $2000 challenge
A rare resource of historical documents related to the chronology of the Bible and Egypt. (For those who really love to dig into details of Biblical and Egyptian history.)