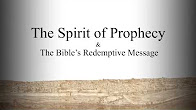 Why did the Old Testament require a specific number of sacrifices for each of the Bible's seven holy days? What was the Messianic significance of the apostle Paul's "middle wall of partition"? Did the apostle Matthew arrange Yeshua's lineage to show a connection between the Bible's calendar, the Torah's sacrificial system, and the prophecies of a coming Messiah?
This week I will answer these questions in a new video presentation which takes you on a thrilling exploration of the Bible's Messianic symbolism. Starting with the basics of Bible prophecy I explore the Biblical feast days, the significance of the number and order of the sacrificial system, the thrilling Messianic symbolism of Matthew 1, and our Creator's heavenly "Rolex" – all within the context of the Spirit of Prophecy. Like never before, you'll see the congruency of the Bible's message of YHWH's salvation, our Yeshua.
I hope you enjoy the adventure!
Next week I hope to have uploaded Part II in the series which will look at Daniel 9 and the prophecy of 70 sevens in a way you've never seen it before.
To watch Part I in my series on the Spirit of Prophecy and the Bible's Messianic Symbolism go to my new YouTube channel here: The Spirit of Prophecy – Part I
*       *       *
FREE Book Download:
If you would like to learn more about Biblical history and Bible prophecy, you might also appreciate my books in the Prophecies and Patterns series.
At the following link you may download one of the three books shown below.  If you like the book and would like to download the other two, all I ask is that you subscribe to my blog. I won't share your email or spam you with advertisements or other requests. Just every couple of weeks I'll share with you my love of Biblical history and Bible Prophecy. Should you decide you no longer wish to be a subscriber you can unsubscribe at any time.
Click the following link to download your Free book: Book Download
I hope you'll join the adventure!
Subscribe to Blog via Email